This year I finally will live up to my promise of doing a monthly newsletter in English. This is the first one. I promised in my previous Danish newsletter that I would get back with a little summary from my last trip to master Sam Tam a couple of weeks ago and apart from that, news about workshops, etc. And that is exactly what this newsletter will contain.
Workshops:
March 4 – 6: Workshop Tai Chi and Qi Gong https://billetto.dk/da/events/workshop-taichi-og-qi-gong-0a6a8e
March 12: Workshop Qi Gong (10-14) http://www.denintelligentekrop.dk/workshop-qi-gong
March 13: Workshop Body awareness and relaxation (13 -17) http://www.denintelligentekrop.dk/workshop-kropsbevidsthed-og-afspaending-torben-bremann
March 19: Stick Form (11-15) https://billetto.dk/da/events/vifteogstokform-c8d995

Qi Gong, teachers programme:
In early April we will have a test for the people who have participated in and finished block two of the Qi Gong, teachers programme. We have had some really nice days with supervision and I am looking forward to our last weekend and examination on this block. I have had several inquiries whether I will make a new class on this side of the Summer. I will! June 4. – 6. In the first weekend I will teach two independent Qi Gong set, standing meditation and daoyin, and of course some basic anatomy as well as chinese medicine. If you are interested, you can write me an email.
From my previous stay at Master Sam Tam's home – excerpts from my diary:
I have visited Sam Tam maybe 25 times or more and he has been in Denmark 8-10 times. In workshops he gives "small" samples of his abilities and skills, much to the delight of the participants. When you visit him in his home, as several of my students had the chance to do in the past year, he shows way more and most get a feeling of his enormous potential. When I'm alone with him he shows even more and turns the level further up – for each visit more and more, and every time I wonder if there is a upper limit. I remember he once said to me: "I think I'm one in a million," which at first may seem boastful, seen from a Western and especially Danish perspective. Today, I am convinced that we have to go much higher, one in 10 million, 50 million – I do not know.
One thing is for sure, Sam Tam has had great teachers, a special talent, and he has now practised for more than 60 years!
It was a trip with many challenges for me on both the mental and physical level. A teaching situation that often went close to the line and sometimes a painful experience with various blue and red marks on my forearms, fingers and joints, again and again getting captured in different chinna – and a new nickname to the undersigned "Oyej, oyej, oyej", when I over and over again got caught in one of his irresistible chinna's when I used to much force, or just flew like a missile through the air in the direction of his mattress on the wall. As he said to me several times, "Not to let you feel a little pain, is not to teach you." To be fair, it is my own interest that I work so much with the martial aspect – it is not something he has demanded or forced on me. And the teaching takes place from early morning and often until very late night, only interrupted with breaks for food and coffee. It is not the way "ordinary" students get taught. They will usually receive four hours of instruction per day, and if he has the time and inclination, a little more.

Spoonfeeding:
I have in a previous newsletter and in my latest Tai Chi book described how I do not get "spoonfeeded". This means that when I'm being taught new movements, he usually only shows the movement a couple of times, before I work with it by myself for half an hour to an hour. Then he will correct me, and I will once again work with it. When I went from being an "ordinary" student to become a close student, this kind of teaching began taking place. In the beginning I had difficulty adjusting to it and it seemed at times it was a waste of my time – that I had to use all my senses and work hard to pick it up. Later I have come to appreciate this kind of teaching and understand the essence of it. It is definitely not a teaching form I can implement in my own classes and even though I include some of it when I teach my close students, I can not implement it 100%. Few people would be able to withstand it. It is the traditional way to be taught, and it has a clear advantage: When I learn something I really end up being capable of doing it and in the end master it.
You won't learn my "gongfu" by solely focusing on the movements
The majority of my time at his place, I am in physical contact with him. Touches and feels his body, his arms, his legs, center, mingmen, his back, either when he teaches me alone and nobody else is around, or when one of his students that lives in Vancouver comes over and I get the chance to feel what's going on, when he sends them off in the direction of the mattress on the wall . This type of training and teaching usually accounts for 3-4 hours daily. As he said to me several times during this stay: "Your Form and standing is pretty good and your softness will probably be your signature. You have to work more on the elastic force, develop it more – and your timing. And you must keep on touching me – my gongfu is not in the movements. We do not want to do empty movements, but connected movements with power that comes from sinking the Qi, expanding it in all directions – and timing. You can only learn it by touching me. " So that's what I spend most of my time doing (touching and feeling him) when I'm together with him. Additionally, I worked a lot with my diagonal force, including training in basic Baqua (walking the circle and changing), for as he said: "Your straight forward force is up to standard – your diagonal force is not".

Bouncing:
Every day, I spent a lot of time "bouncing" (release internal force – or being thrown into the mattress myself, practising with some of his students while Sam Tam was correcting us.) Ilia – one of his early students – lived in his home while I was there, so I trained quite a bit with him. Apart from him, I practised with John, who I normally practise with when I'm staying at Sam Tam' place. Travis, whom I first met in Taiwan and later introduced to Sam Tam, also came around – and a Chinese young student named Alex. Sam Tam always makes sure that I have good training partners to practice with. It is important that he can correct me when I work on others. Most of my students knows "the basic of basic bouncing," which primarily teaches the individual to sink the qi and shift the weight and deliver the force straight ahead and up. This exercise forms the foundation of all bouncing. I also work with a number of other methods that he says my students are not ready for yet. It rained quite a bit while I was there – green Winter so to speak – and it's a very special thing to hear the pouring rain in the background, broken only by the sound when a person hits the mattress.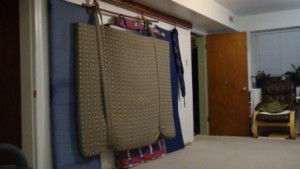 Sam Tam's legendary mattress
Qi Gong
I seldom write much about Qi Gong in my chronicles about my stay with Sam Tam. Not because I do not practice Qi Gong when I'm there, or learn more and go deeper with it, or because Qi Gong is not important. It is. And especially in the first years when I learned from Sam Tam, a lot of his teaching were focused on that. But you have to remember that Tai Chi certainly is Qi Gong, if done correctly! Qi Gong is not, however, Tai Chi:
Is Sam Tam going to visit Copenhagen again?
Yes, he is. But not in 2016. In these years, he keeps his focus on his family, his close students and the students who visits him. He will probably come to Denmark in 2017. But more about that when the time is approaching.
Summer camp:
For many years I have had intentions to set up a summer camp. And in just as many years, I never came around to it! This year, I will finally do it! But in a slightly different way than the more traditional. I will do it in my home without accommodation, but one of my students have a place nearby where there is room for some people. Apart from that, I have a good deal with a couple of bed and breakfast places close by. So if you wish to visit beautiful Copenhagen during Summertime and combine it with intensive training in Tai Chi, this will be a great opportunity to do so! The camp will run from July 2 – 10. It will be two full weekends and the week in between. 7- 8 hours teaching on a daily basis. It will be possible to sign up only for one weekend, both weekends, only the week days, etc. A full programme will be included in the next newsletter. Write me an email if you have an interest in participating or would like to have more info.
Greetings from Torben