We have passed the middle of August after one – for Denmark – relatively wet summer and it is about time to look forward to the activities of Fall and Winter. As usual, I have a quite big program for Fall and Winter, even though I have reduced it somewhat to create more room for my private students.
For me personally, it has been an exciting and challenging Summer. Twice within 6 weeks I was in Vancouver at my sifu Master Sam Tam, I held my 2nd intensive 9 day summer camp – and then I've had some personal breakthroughs in relation to my training and own development. This newsletter will primarily focus on my trip to Master Sam Tam, a bit about how my international web based education program – exploringtaiji – has been received, a little about the Summercamp, taijiintensive, the new Qi Gong teachers program – and of course an overview of upcoming workshops and courses.   

My visit to Master Sam Tam:
I have been visiting Master Sam Tam twice with just 6 weeks apart this Summer. It is always an intense experience to go there, and I had hardly any time to digest my last visit before I stood there again. This time Huong was with me – her first meeting with Master Sam Tam. In the last year, she has been training standing meditation daily – between 30-40 min – as well as learning the Fan form from me. So her primary focus was to "experience" him while being corrected – or finetuned, as he calls it – in the Fan form and of course standing meditation. In addition to "touching" him and feeling his unmatched power – noticing what happens in his body when he easily sends one big strong man after another through the air towards his mattress on the wall.  To "feel" the body of a skilled person when they either sink the energy, focus the energy, yield, etc. is what was called "secret transmission" in the old days. It was reserved only for the closest disciples, and very rarely for women since women were married away and there was fear that the special abilities a master had, would end up in the wrong hands outside the family. A tradition that is not enforced anymore, though it is very common for students not to touch their teacher's bodies, but just be allowed to see the movements, choreographies, etc. at a distance without contact.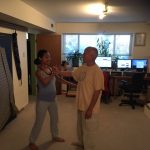 (Master Sam Tam and Huong)
In between training sessions, she also had the opportunity to watch parts of his big video collection with different sifus (teachers) who have visited him over the years. Seeing and experiencing famous international names look like complete beginners in direct contact with Master Sam Tam can be an overwhelming experience.  Huong also got through the empty-handed taiji form, and I practiced it with her under the supervision of Master Sam Tam. However, the primary focus for her was the Fan form and standing meditation. The form has so many aspects – in regards to both health and martial art – and the development of mobility, balance, coordination, focus, flexibility, grace, etc. is developed to a high degree. The form can be learned by anyone who is capable to stand in an upright position.  On some occasions, she had the opportunity to sample his way of teaching. For example when he, after she showed him a small piece of the taiji form, told her to "do it again". Two seconds after she had begun he raised his voice and finger, and with a fixed gaze said "No – I said do it again, not repeat". After which he explained that she shouldn't just repeat the same thing over and over again (as when someone thinks that doing a taijiform 20 times a day is the way to go), but that she had to re-do.  I.e. not only repeat, but develop and improve.  One of his other classic quirks is, just when you feel you are finally getting the hang of something, to exclaim: "Stop – this time you did it right. Take a break and let it sink in."
"When you use force, you lose the force"
For my own part, I did not have anything in particular that I wanted to learn during my stay. Other than, of course, to be corrected and go deeper in what I already practice, be in physical contact with him as much as possible every day – and especially to work on the mental and energetic aspects.  We had, as we usually do, some discussions along the way – and one that would surely look like a conflict from the outside. It was not though, and it is part of the process if deeper development is to take place. A theme that also became relevant during this year's Summercamp in Denmark.  It is so hard to accept and understand that to develop "no force" it really is necessary to use and employ – no force. Everything else is just using what we already have at our disposal, and thus use what is described as a substitute method. Or as I remember Master Sam Tam once putting it to me, "When you use force, you lose the force."
If we want to develop ourselves on a deeper level, working with Qi and mind – it is a prerequisite that we have confidence in the process, confident that it can be done – and trust the teacher. Otherwise, it's just a waste of time and we will end up like 99 out of 100 people – just working with choreographies, techniques, physical strength, etc..  It's not easy – admitted – I've been in the process for almost 30 years, the first many years of which I had no idea what internal force was – other than citing something I did not understand. Remember the quote: The weak can overcome the strong, the female overcome the man, and the old the young".  This cannot be done with muscular strength. But it can be done by building up your Qi, creating a free flow of Qi – and being able to focus the Qi. In either martial art or healing – the energy is the same. But it requires the individual to know what it takes to build it – and then train. Otherwise, the movements are just a dance – and often a bad one at that. And the "healing" of clients becomes an illusion bordering on quackery, and at the same time an illusion that can have catastrophic consequences for the health of the "therapist". Remember, you can't skip building your own Qi, and it's best done in standing meditation. If done correctly!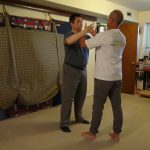 (Ilia Pak and I training bouncing)
As usual, I trained partner exercises with other senior students when possible. It gives Master Sam Tam a better opportunity to correct me when I have others to train with.  This time, his last remarks to me the day before we went home were:  "The last things there are to learn about the internal and Qi, I cannot teach you. You have to find them yourself. I have taught you through the years and pointed in the direction. You must continue and study, analyze and always use no force. You are so close – and yet so far if you don't find the last part."  Encouraging – and challenging at the same time.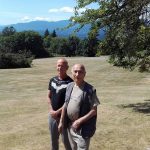 (Master Sam Tam and I, July 2017)
Summercamp:
This year's Summercamp once again took place in my house and garden. It was intense for both body and mind, and some students experienced a crisis along the way. It is natural – and necessary. If development really has to take place, we must dare to look inside. As I mentioned when we had a talk about crises: "Believe me, I've had them all and then some. And there will certainly be more."  In a course like this Summercamp, with great focus on the internal aspects, challenges will arise. To go from using physical strength to trying to use Qi and maybe experiencing that it is not yet possible for one to do so – is something of a hurdle to pass. But again – a necessary one. I am grateful for having the opportunity to teach at this level and privileged to have students that give me this possibility.  When I teach less demanding workshops, I aim to give everyone a feel good experience, and therefore do not make the same demands or challenge the participants in the same way that I do during a 9-day intensive course.  I have already dates in place for next year's summer, so all who might be interested in participating, write the dates in your calendar now: June 30 – July 8 2018.  I expect that there will be many participants from abroad, but my own students have 1st priority so there will not be many spots available. There will be several registration possibilities like in the previous camps – from one-day only visits to stays for the duration of the whole camp.
Taij instructor training/taiji intensive:
In a couple of weeks we will start up on module two of the above. Once again it will be demanding and intense for the participants. One of the participants have quitted – it was to be expected. An intensive course requires an investment and effort that the individual naturally can only understand the full picture of along the way. I will do only two of this kind of courses all together. The next course, where complete newcomers can enrol, is expected to start at the end of February or early March 2018.  The maximum number of participants will be 10.  There is 8 modules in the course. The first six are taught to the whole group, the last two in smaller groups of two at a time. Those who complete all modules will, after the course, be at a level that few would think was possible in such a relatively short period of time. But remember that my own development has taken me 30 years – a journey with many detours and dead ends. I have invested passion and the courage to go deep, a willingness to practice and train, traveling around the world to where my teachers lived and accepted the terms under which they have taught me. Luckily, I have had teachers who were willing to teach me and have truly accepted me as their student.  If you would like to be part of the next – and last – course like this, please email me or give me a call.  After the course, you will be more than qualified to teach and gain the ability to develop further from there – being able to distinguish clearly between what is good and what is bad or false in the world of internal training. It's definitely not a requirement that you teach later – it's up to you. Perhaps you just want to do it out of your desire to learn Taiji, Qi Gong and internal training on a deeper level. You also do not commit yourself for more than one module at a time. There are 5-6 months to the start of the next course, but not many spots available. So do not hesitate to contact me if you are interested.
Exploringtaiji:
My web-based training program is off to a good start, but … It is curious that not a single Dane has signed up! I have asked some people for advice regarding this, and was told that it, among other things, might be because it is in English. I may add that I speak easy-to-understand English (with a clear Danish accent) so I think most Danes will understand what I am saying. In addition, the videos themselves speak their own clear language – the material is filmed from several different angles and with close ups.  In addition to covering Taiji, the program also contains Qi Gong, breathing exercises, various loosening and mobility exercises and more. Additionally, there will now and then be some written assignments/things to focus especially on for a while. The program is comprehensive, in-depth and at the same time educational and done with a super professional set up – and registration is cheap!  Of course, I am glad that more and more foreign users sign up – and especially when it is people who have been training for a long time and/or are teachers themselves – but I would like to have some Danes too! Not least, those who over the years have asked me to develop such a program.  I have therefore chosen to donate a free, signed copy of my big book on Tai Chi, Qi Gong and Standing Meditation (Only in Danish at this point I am afraid) to the 5 next people who sign up for the program.  There are several registration options as you can see here

Qi Gong – teachers program:
I have the last group of participants in the current form of my teachers program here in October. From 2018 – probably February – I will create a completely new education with one basic module and then a "yin and a yang line" you might call it. The yin line will focus on the more soft sets of Qi Gong as well as simple healing techniques. And a yang line with special focus on Qi Gong for martial art and to build the Qi and body for it. But much more about that in a newsletter to come at a later point. It has always been my desire to keep on developing whatever I teach in line with my own development takes place. And I feel it's time now for a change, after teaching the teachers program in Qi Gong in its current form for about 10 years
Workshops / courses autumn/winter 2017:
9th – 10th of September 10.00 – 17.00: Tai Chi instructor / intensive (fully booked)
16th September 10.00. – 14.00: Taijiruler and standing
September 23, 10.00. – 14.00: Grounding and sensitivity
September 24th, 10.00. – 13.00: Introduction to Taiji
30 September 10.00. – 14.00: Shoulder / shoulder girdle workshop
7th – 8th of October: Qi Gong education (fully booked)
14 October 10.00. – 13.00: Qi Gong workshop (Emei Qi Gong)
October 15th. – 14.00: Fan Form workshop (taught by Huong)
21 – 22 October 10.00. – 17.00: Tai Chi instructor / intensive (fully booked)
October 26, 15.00. – 16.30: Training Fan Form (Taught by Huong)
28 October 10.00. – 14.00: Workshop on the pelvis, lower back and hip – special focus on iliopsoas
29 October 10.00 – 14.00: Stick form workshop with partner exercises
4 November 10.00. – 14.00: Meditation workshop
5 November 10.00. – 14.00: healthy feet workshop
18 November 10.00. – 17.00: Tai Chi instructor / intensive (fully booked)
November 19th, 10th. – 14.00: Standing meditation and breathing. Special focus on Qi – building and sinking.
2 – 3 December 10.00. – 17.00: Tuina massage course
16 December 10.00. – 17.00: Tai Chi instructor / intensive (fully booked)
August greetings,
Torben